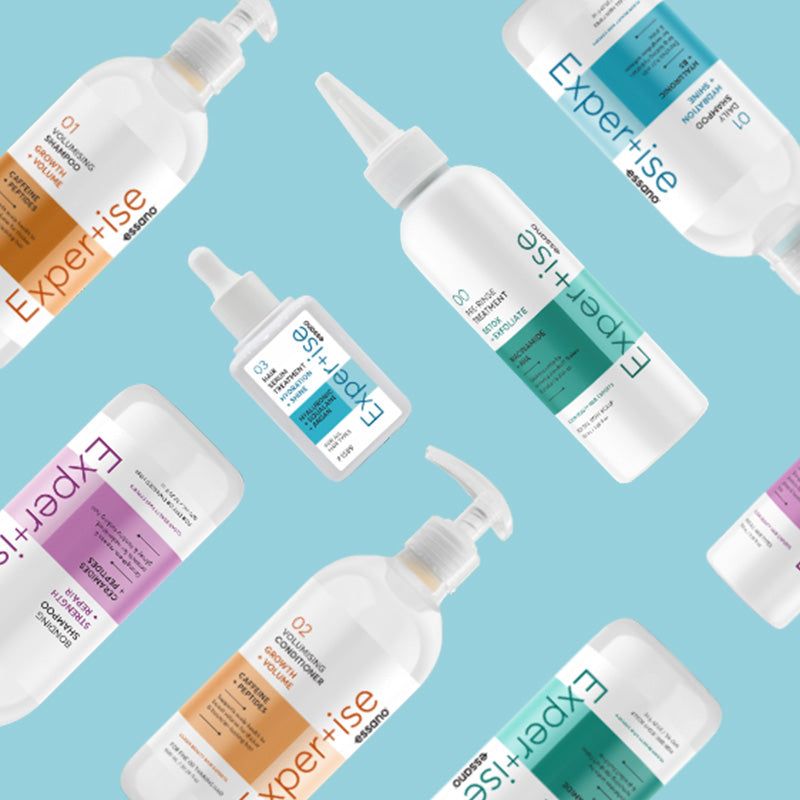 Scalp Care 101: Understanding the Skinification of Hair
In recent years, we have seen an increase in the general knowledge of skincare and key ingredients; which has expanded from skincare to bodycare, and now it's taking haircare by storm with the latest beauty trend – the skinification of hair.
What is the skinification of hair?
The foundation of the skinification trend is that like any other part of our body, our scalp is skin too, and we should be treating it with the same care and skin-loving ingredients that we find in our skincare. Understanding that better hair starts with a healthy scalp, essano has taken their expertise in skincare to develop the all-new Exper+ise range, which is formulated with high-performing scalp and skin care actives, to deliver salon-quality results every day, at home, at grocery prices.
Introducing Exper+ise by essano
The Exper+ise range includes four 3-step, clean beauty haircare regimes, which are crafted with the best of nature and science to deliver optimal scalp and hair health for different hair types, and target the common hair concerns experienced by these groups.
The 3-step haircare regimes include a shampoo, conditioner, and targeted treatment; the best results are experienced when all three products are used routinely. Let's take a look at the four haircare regimes:
Hydration & Shine
Drenches the scalp and hair with long-lasting hydration to help lock in moisture. While suitable for all hair types, it is perfect for people with frizzy, dry and brittle hair. The result – daily shine, and weightless nourishment and softness.
High performing skincare actives:
Hyaluronic Acid (HA): drenches hair and scalp in hydration
Vitamin B5: strengthens and nourishes the scalp and hair
Strength & Repair
Helps to repair damage to the hair and scalp, and provide a protective seal. Formulated to target split ends, damaged and fluffy hair. The result – replenished, glossy, and healthy-looking hair.
High performing skincare actives:
Ceramides: form a protective seal on hair and scalp
Peptides-Oligopeptides: repair damage and strengthen hair cuticle
Detox & Exfoliate
Eases discomfort and removes dandruff flakes from first use. Perfect for people with product build-up, a flaky scalp, or scalp discomfort. The result – a flake-free, balanced and restored scalp and luscious-looking hair.
High performing skincare actives:
Niacinamide: helps to improve overall scalp health
Alpha Hydroxy Acids (AHAs): gently exfoliates the surface of the scalp
Growth & Volume
Helps to boost hair volume for fuller and thicker- looking hair. Formulated for people with fine or thinning hair. The result – silky hair with body and volume, for fuller and bouncier-looking hair.
High performing skincare actives:
Caffeine: helps to improve circulation on the scalp for growth
Tripeptides: to densify and strengthen hair
For your best hair ever, explore the Exper+ise range online. Exper+ise is also available in-store at Chemist Warehouse New Zealand and Australia.